About us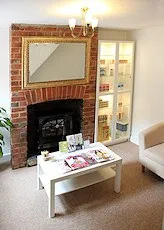 Wokingham Therapy Clinic was founded in 2011. Since then, it has helped thousands of people in the local community of Wokingham and the surrounding areas of Berkshire with a multitude of health problems.
The clinic is located within a grade II listed, 150-200 year old Victorian cottage at the end of Denmark Street in the heart of Wokingham town centre. It has three treatment rooms with a waiting room, kitchen area and toilet.
Inside, the clinic blends homely with clinical, offering a relaxed place for therapy and recovery.
It was founded by Dr (TCM) Attilio D'Alberto, who is the clinic director and a practising doctor of Chinese medicine. The clinic is full of many well known therapists from the area practicing in it's space. The clinic offers many different types of therapies allowing anyone with a health problem to find help.