Renting a Therapy Room in Wokingham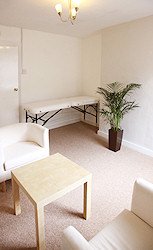 We are always happy to have qualified and experienced healthcare practitioners working from our clinic.
We have three treatment rooms available; two with an electric couch, which is suitable for physiotherapists, osteopaths, reflexologists, etc and one room with just two chairs and a table that's suitable for hypnotherapists, counsellors, psychologists, etc.
All rooms are decorated to a high standard and offer a light, welcoming and professional treatment area for your clients. Take a look inside with our virtual tour.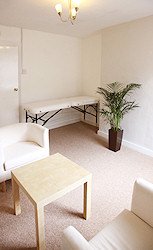 The ad hoc room rate at our clinic is £11 per hour. Minimum 1 hour use. Contract rates, where you take out the same hours each week (minimum of 3 hours) is £10 an hour. You can use the clinic at whatever time suits you, with 24/7 access. There is free wifi available to all therapists.
We offer an online diary system, which you can use on your smart phone that allows you to access and book room slots 24 hours a day.
Practitioners wishing to apply to rents our rooms must be fully qualified in their chosen profession and have their own insurance.
If you wish to apply for room rental, please email the clinic.